The amazing play opportunities with Magbrix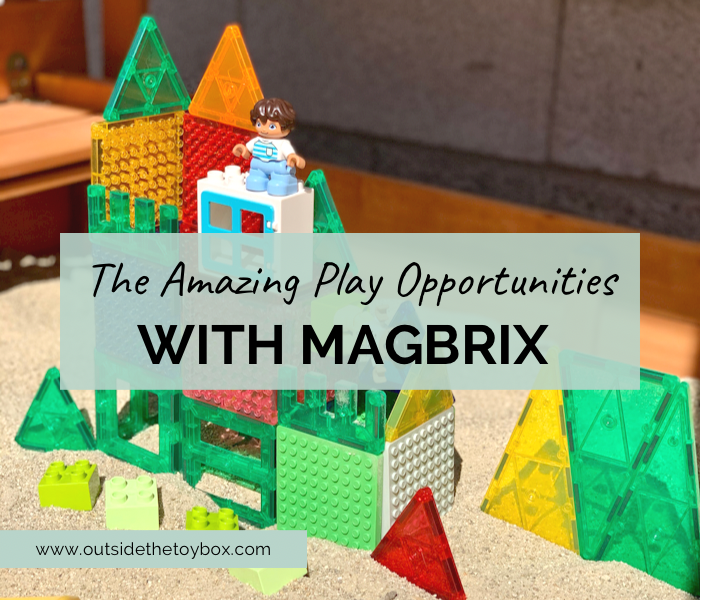 Have you heard of magnetic tiles that are compatible with LEGO and DUPLO? Yes, you heard me right, they are called MAGBRIX. Today I am bringing you my review of MAGBRIX as well as some unique MAGBRIX play ideas. 
MAGBRIX opens the doors to unlimited creations and the opportunity to combine and play with LEGO like building blocks. MAGBRIX have been specially designed to offer more opportunities to play because they are compatible with other magnetic tile brands as well as LEGO and DUPLO. 
So if you ever wanted to create something both with LEGOs and magnetic tiles, you now can with MAGBRIX. Even beyond simple building, there are many amazing play opportunities with MAGBRIX.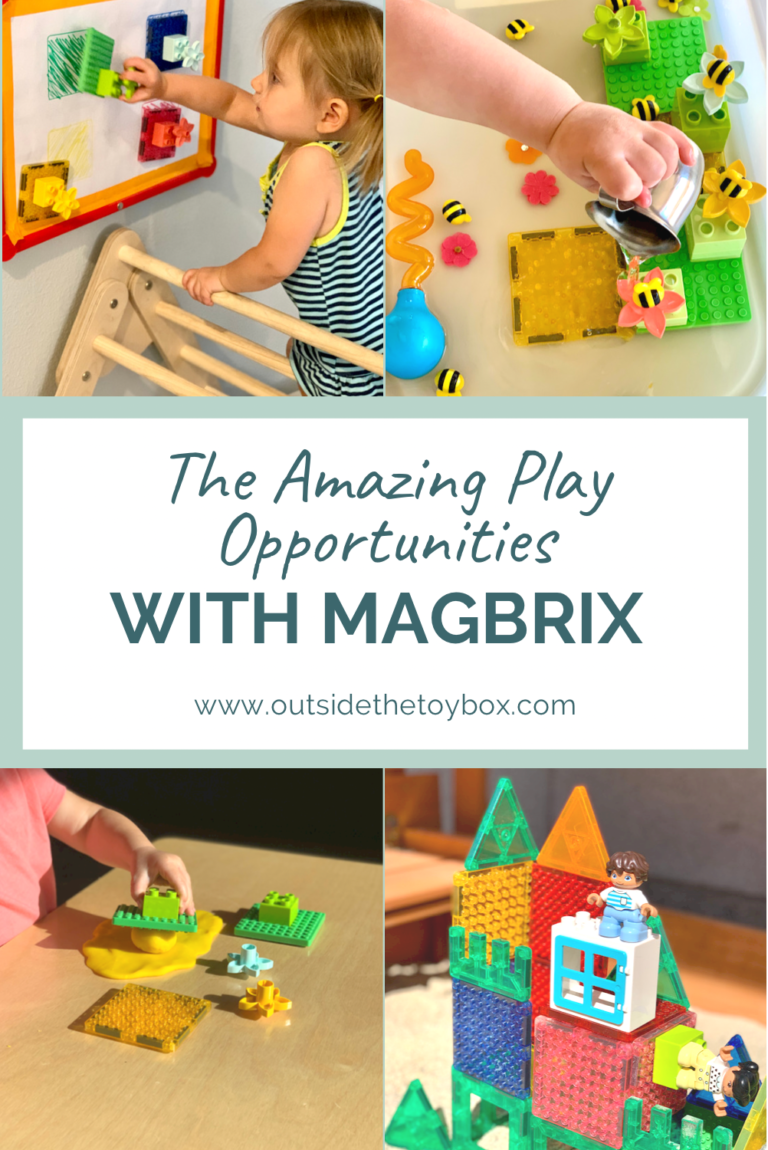 GREAT THINGS ABOUT MAGBRIX
THERE ARE SO MANY GREAT THINGS ABOUT MAGBRIX, BUT JUST TO NAME A FEW:
Made from

 

both recycled and new ABS plastic, a food grade non-toxic material which is BPA and phthalate free.

They are encapsulated in a re-enforced case secured with copper rivets using an ultrasonic welding technology to prevent loose magnets.

They are compatible with other magnetic tile brands. (They worked perfectly with the Tytan Tiles that we already owned).

You can combine your magnetic tile and Lego building.

They are a great STEM resource.

Their open-ended nature provides many amazing play opportunities.

They are now selling on Amazon (Yay for the USA market!), so if you have a Prime account you can get free shipping! (If you don't have a Prime account, what are you waiting for? We use Prime all the time! You can test it out for free for 30 Days with a

 

Prime 30-Day Free Trial).
BENEFITS OF MAGNETIC TILE PLAY
When I was teaching preschool and kindergarten, I used magnetic tiles in the classroom. I can tell you with all certainty, these were our most used materials during unstructured play time. Children constantly gravitated towards magnetic tiles. Toddlers through elementary children enjoyed these resources equally. 
I knew when I had a child of my own, magnetic tiles would be a toy I would not regret buying because they would last through the years with so many play and learning opportunities.
I remember one specific time when I was teaching kindergarten, I was able to teach the names of the different triangles (equilateral and isosceles) and the children actually absorbed the knowledge and started using the terms on their own. This showed me the power that magnetic tiles had on learning through play. 
Children learn geometric concepts, numeracy, spatial awareness, science concepts, language and so much more through magnetic tile play. They also practice skills like fine motor, hand eye coordination, problem-solving, and creative thinking.
Parents and educators can also create some super simple DIY materials using magnetic tiles that can also provide learning through play opportunities. Check out our Magnetic Tile Peekaboo for just one example of a simple DIY activity.
Some other DIY activities can include:
Magnetic puzzles

Ball runs

Color sorting boxes

Spelling games

Letter match
Magnetic tiles are open-ended which opens up endless possibilities for learning through play. Open-ended materials allow children of all ages to participate and to think creatively. 
Instead of a closed-ended material that serves only one purpose (think puzzles, figurines, bead frame, musical instruments, play foods, etc), open-ended materials can be used in multiple ways. FYI closed ended materials are not bad, but they serve a different purpose than open-ended materials and should be balanced with open-ended resources. 
To better understand the value of open-ended resources you can read about Loose Parts Play.
The beauty of MAGBRIX is that they are compatible with other magnetic tile brands. This opens up so many opportunities for open-ended play.
UNIQUE MAGBRIX PLAY IDEAS
Children often play and work on a horizontal surface. Mixing it up and working on a vertical surface has several benefits. Here are just a few benefits to working on a vertical surface:
Activates different muscles, including shoulders, elbows, arms, and wrist

Improves pencil grip

Improves fine motor dexterity and control

Often requires both hands to work together, which supports bilateral coordination

Makes spatial awareness concepts like up and down easier to understand

Encourages good head and neck position

Their work is closer to their face which helps with visual attention

Helps older babies and young toddlers that are just learning to stand.

Improves focus for active children.
MAGBRIX allows children to build on a vertical surface. They are not limited to flat buildings either. Now they can stack and have their LEGO characters scale the wall.
A FEW WAYS YOU CAN USE MAGBRIX TO PLAY VERTICALLY INCLUDE USING:
The refrigerator

Metal garage door

Side of car

Baking sheet connected to the wall

Metal safety gates

Any other magnetic vertical surface
Sensory play has several benefits for children of all ages. I find that young children enjoy sensory play and learn so much about the world around them through sensory play activities.
At first, you may not think about using MAGBRIX for sensory play, but I find their unique shape and texture to be a great resource to add to sensory play activities. Read on for a few examples.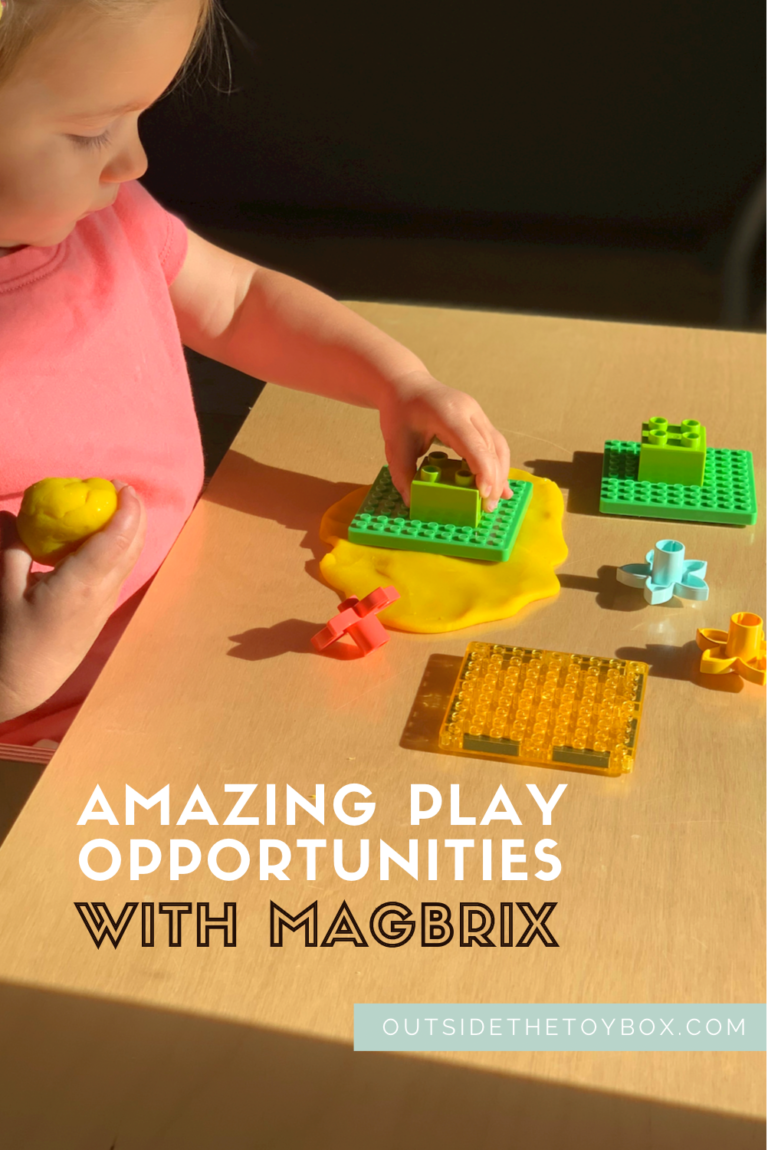 The fun bumpy texture of MAGBRIX makes them perfect for stamping to create a print. Play dough works great, but you can also try stamping into kinetic sand, moon sand, sand, dirt, or paint.
I included DUPLO blocks connected to the MAGBRIX as handles and some DUPLO flowers. Ruby really enjoyed the bumpy texture the MAGBRIX created when stamped into the play dough.
You can even stamp different designs into play dough and have the child match the MAGBRIX like a puzzle.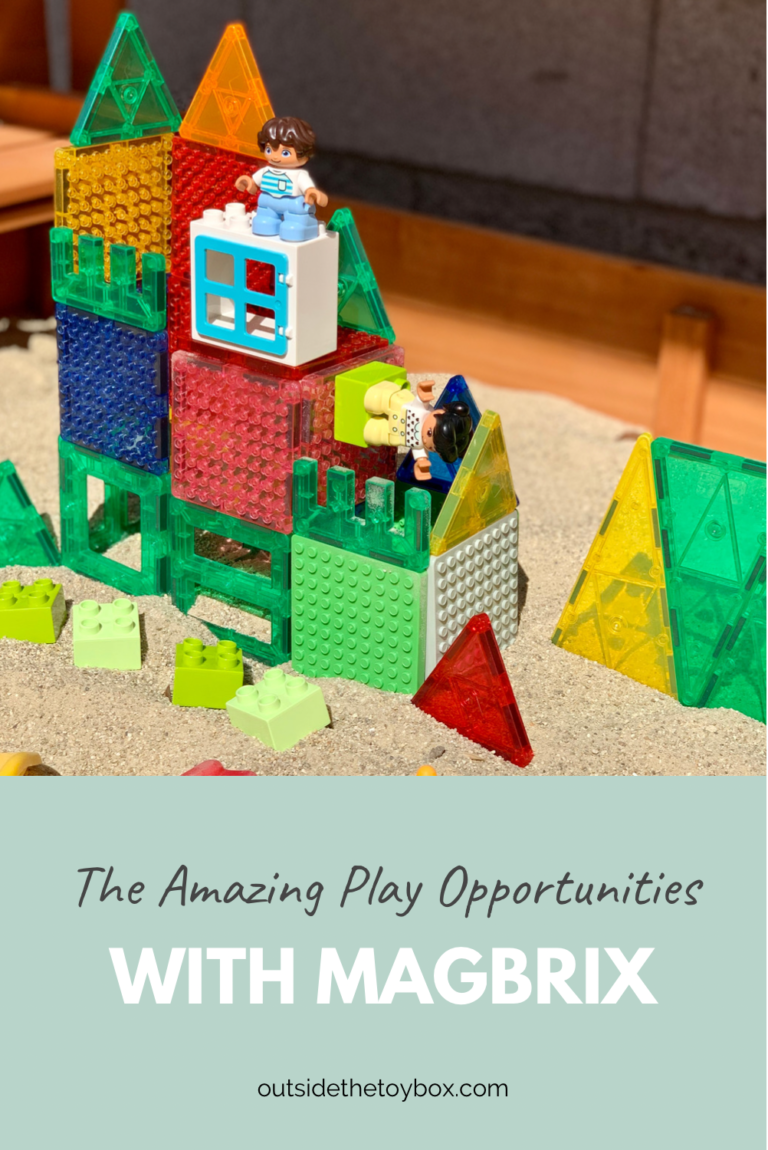 Take your MAGBRIX into the sandbox or to the beach to create some epic sandcastles.
We have been loving our new sandbox lately, so adding MAGBRIX and DUPLO were a unique way to play. 
Ruby was fascinated by the people and wanted to bury them in the sand. Then it was also like a treasure hunt finding the MAGBRIX in the sand. 
When I removed them from the sand to clean them off, I realized there was a bonus activity with MAGBRIX in the sand. They collected the iron filings from the sand, which is a fun STEM concept to discuss.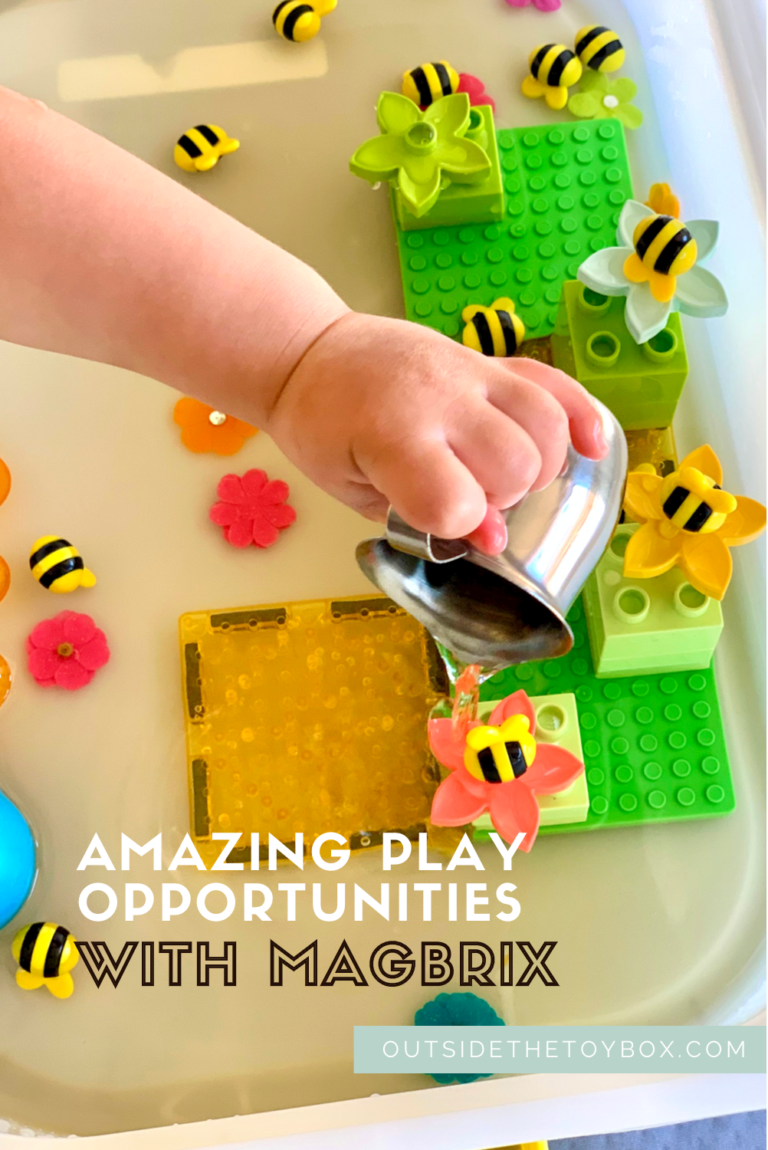 DISCLAIMER: The MAGBLOX website does state that the MAGBRIX and MAGBLOX are not waterproof and should not be submerged in water. If you do play with MAGBRIX in water make sure you remove promptly and stand up to drain any water that may have been trapped.
We played in a shallow bin of water and only for a short amount of time. I drained immediately after playing.
We really love water play. It is soothing, refreshing, enjoyed by all ages, and there are so many possibilities. I will need to add MAGBRIX to our list of 50+ Water Play Ideas.
When we received our MAGBRIX, Ruby was really interested in studying bees. We had done some dry sensory play with bees, but I wanted to try out water play. I created a quick set up with the MAGBRIX and Duplo flowers with some bees and scoops. I added extra MAGBRIX and magnetic tiles in case she wanted to add more. 
She loved this set up and wanted to take it outside so she could watch the bees work in our bushes outside. Then she wanted to put all the MAGBRIX inside the water. 
It was interesting the MAGBRIX didn't really sink fully, but they didn't float on top of the water either. Maybe if you built with more surface area it would float on the surface. Definitely an experiment worthy of attempting to test your knowledge on buoyancy when you add MAGBRIX to water.
Magnetic tiles are one of my favorite materials to use on our DIY Light Box. Now we can add MAGBRIX for some unique light box play.
I created a very simple color sorting activity with the translucent MAGBRIX and coordinating DUPLO blocks. 
It's common to think of using fine motor muscles when building with magnetic tiles, but what about gross motor skills?
Children develop large muscle movements first and then refine these movements for the fine motor skills they need for writing, drawing, and self-care tasks.
Here are some play opportunities using MAGBRIX beyond building high structures to support gross motor development.
I wanted to get Ruby some stepping stones, but we have used a variety of items around the house to use instead. Texture crawl/walks are easy to create with items you have around the house. MAGBRIX have a bumpy texture and are built with durability so they are a great alternative stepping stone.
At first, Ruby was unsure of the hard and bumpy texture of the MAGBRIX, but as she continued to use the texture path, she became more comfortable. The bubble wrap was her favorite though.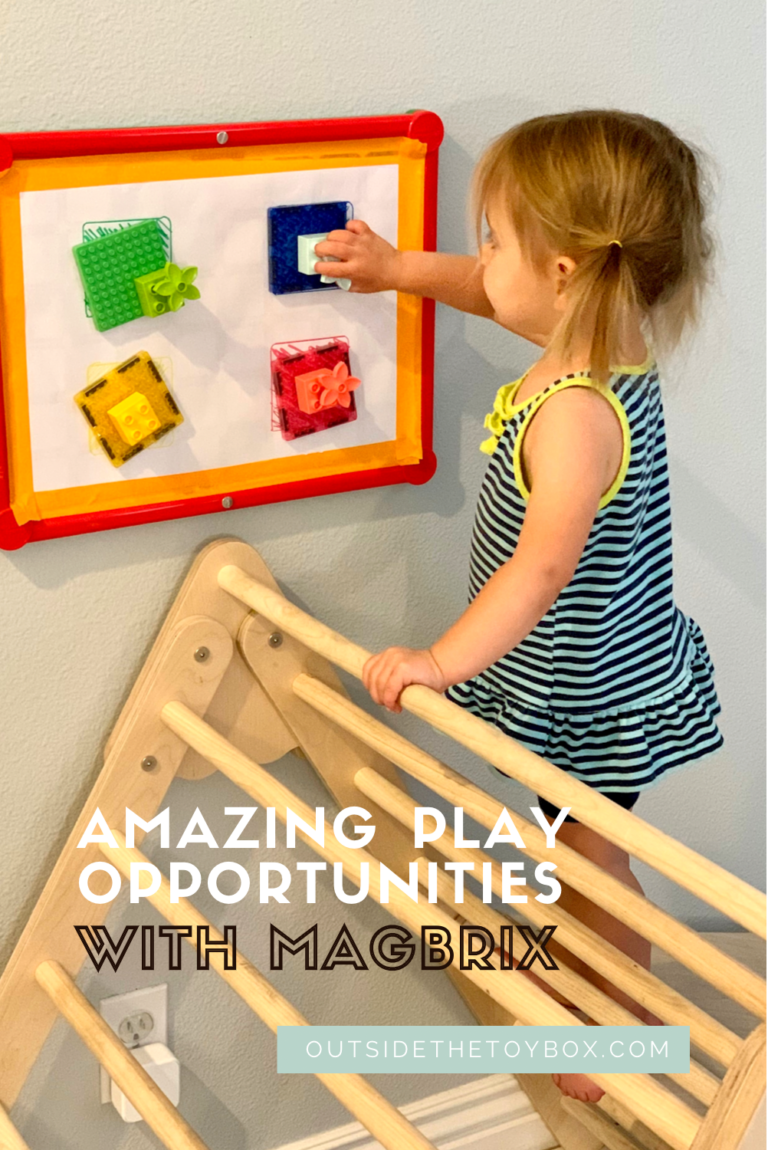 We absolutely love our Pikler Triangle and we have used it for many ways besides climbing. We did a bunch of Valentine's Activities using the Pikler, some of which we have repurposed to anytime play ideas. 
To use MAGBRIX with the Pikler, I put the Pikler next to a wall and secured a magnetic white board (you could also use a baking sheet) at the top of the Pikler on the wall. I made a simple shape puzzle and placed the MAGBRIX at the bottom of the Pikler. Ruby then grabbed the MAGBRIX at the bottom, carried it up to the top of the Pikler, and then placed it on the baking sheet. 
She really had to use her balance and coordination with this multi-step task. She dropped a few pieces along the way and Chris joked that she was "testing the durability of the MAGBRIX." They held up well to the dropping.
MY OVERALL THOUGHTS ON MAGBRIX
When I first heard about MAGBRIX I thought it was the coolest idea. They did not disappoint. I really can see so many play opportunities using these unique magnetic building tiles. Their durability is impressive and that's important because I envision using them with two children for many years. 
Ruby is not too interested in building with magnetic tiles at the moment, so that is why I approach play in a unique way with these magnetic tiles. If I were to buy these for building, I think the ideal age would be around 3 years old. 
Another thing to keep in mind is one side has the bumps that will work with LEGO and DUPLO, but the other side attaches to other MAGBRIX so the bumps are smaller. Definitely not a deal breaker, but that was tricky for a toddler to figure out. 
Overall, I am impressed and very grateful to have received these MAGBRIX. Make sure to follow us on Instagram where we will be sure to showcase even more play ideas.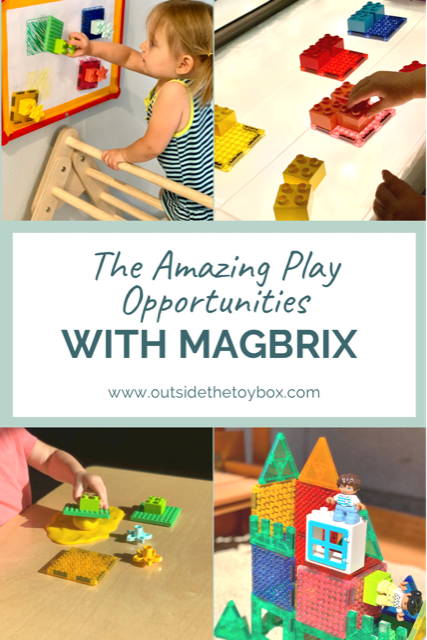 Follow us on Social Media to get daily play inspiration. 
Want to read more about @outsidethetoybox please click here